November's dangerous mail threat data saw explosives and white powders continue as the common incidents, with drugs in the mail continuing to increase.
This month's dangerous mail incidents were consistent with historical norms, despite a significant reduction in open-source reporting due to election coverage.
As the holidays approach, and the number of online purchases continue to increase, mail screening efforts will face continued stress.
Dangerous Mail Analysis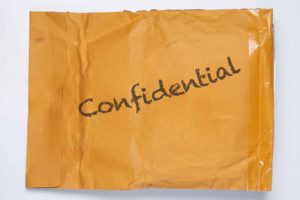 Drugs in the mail are on the rise and this month held an event that highlights some of the issues and raises some questions.
Why is a New Mexico resident attempting to ship meth at a FedEx store?
Why is she asking what they will ship, while holding meth in her hands?
How did she expect to get away with any of this?
Answer: She is using a method that is brand new to her. Previous safer distribution methods are stressed and now high-risk styles now seem more reasonable.
She is also unaware of what a chain of custody is crucial to mail security, and is and that a private carrier like FedEx is one of the fastest ways to get caught shipping something dangerous.
Why Dangerous Mail Threats are Increasing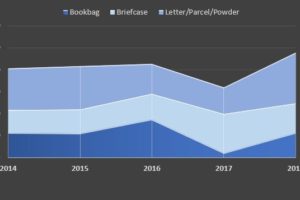 Mailed threats maintain an advantage over their targets for a few reasons. Mail provides:
Standoff — the perpetrator is not present at time of delivery
Perceived Anonymity — mail threat perpetrators feel protected by distance/absence
Safe Separation — distance protects perpetrators from physical harm during detonation/delivery
Access — Since mail is trusted, packages have easy insertion into target location
November 2020 Mail Threats
Two explosive events in the last 60 days raise concern over what the upcoming months might hold.
As the world is staying at a "social distance" thanks to covid and its effects on security, threats will migrate from historically placed by hand to delivered through the mail.
These incidents serve to underscore the need for companies and organizations to take mail security seriously. And this is doubly true for organizations in need of risk assessments and mail security Standard Operating Procedures and mail security training.
Below is the list of relevant dangerous mail incidents in the United States during November, 2020.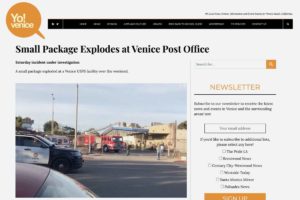 Nov 23, 2020
A small package exploded at a Venice USPS facility over the weekend.
According to the Los Angeles Fire Department (LAFD), the incident–initially reported as a structure fire–was called in at 3:38 p.m. on November at 313 Grand Boulevard, the location of a United States Postal Service (USPS) facility.
After responding to the scene, firefighters learned that a small package had exploded at the facility.
No injuries were reported.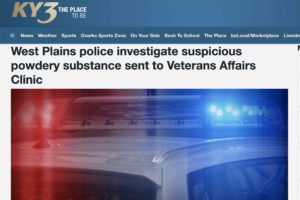 Nov 19, 2020
A suspicious white, powdery substance was recently sent to the Veterans Affairs Clinic in West Plains. The West Plains Police Department is investigating the incident as a possible terroristic threat.
Officers responded to the V.A. Clinic on Wednesday after in response to an envelope that contained a white, powdery substance. Officers on scene reported the letter was opened by an employee of the clinic. Upon opening the envelope, the substance fell out.
The substance, seized by officers on scene, has been sent off for testing. Police have not identified a suspect in the investigation.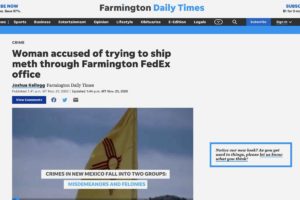 Nov 23, 2020
There were two packs of cigarettes inside the parcel with one of the packs taped shut. The employee opened the taped pack and saw what he believed to be illegal narcotics, then called police. The package was seized and secured as a search warrant was sought.
The employee said Dodson was making strange statements and had questions about what FedEx would and wouldn't ship. He became suspicious the defendant was attempting to ship drugs and opened the package.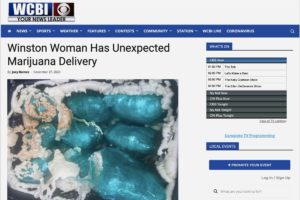 Nov 27, 2020
A plastic container filled with 18 pounds of marijuana was delivered to her Brooksville Road home. The unsuspecting woman called deputies to investigate.
Investigators tell WCBI there were 18 of the one-pound packages inside the storage tub, which was sprayed with foam insulation. Deputies say the return label was from Minnesota. No arrest has been made.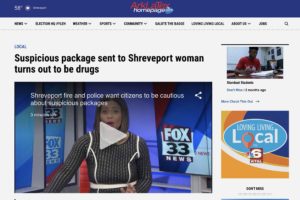 Nov 17, 2020
"The first thing I should have noticed is that there was no name on the package. That should have been my first clue," said Leslie Dews said.
Dews said she and her family are constantly ordering things online and she was expecting a package, so it did not occur to her to look for anything suspicious.
Tests on the powder found that it was meth and protein, otherwise known as MDMA or 'ecstasy,' a psychoactive drug.
Assistant Fire chief Fred Sanders said this is not the first time an incident like this has happened.
"In the past ten days, we've responded to about four incidents of suspicious packages in southeast Shreveport. We responded to an incident where it was white powder in a mailbox. The content ended up being corn starch."
"If you receive a package, our advice to citizens is not to open that package, not to touch that package. especially if you received a package you did not request and you don't know what the contents are," Sanders said.