January saw a continuation of a higher than average targeting of government buildings. Aligned with the election results state and federal buildings have been hit white powder letters, letters threatening aggression, and manifestos.
Most of these have been handled by local authorities and then transferred to federal authorities. The investigations are federal due to verbiage in the threats, crossing state lines or the actual target itself.
As charges are filed against the January 6th attack on the Capitol Building an interesting trend has occurred. White powder letters targeting the lawyers who are representing the accused have begun to show up primarily at the law offices.
This will most likely continue as mail security threats and spread to other elements of the process as well. Judges, courthouses, lawyers and other related locations are likely possible targets for the foreseeable future.
United States Dangerous Mail Incidents
White powder mailed threats with anti-government statements dominated the events of the month. Targets were primarily government and from reporting tied to the January 6th insurrection at the Capitol Building.
Local extremists who were not present yet felt the need to attack the government used the mail to do so.
These events trailed off towards the end of the month but expectations are they will quickly return at the next protest or significant anti-government rally.
Below is the list of relevant dangerous mail incidents in the United States during January, 2021.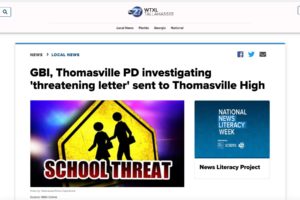 Jan 4, 2021
The Georgia Bureau of Investigation and the Thomasville Police Department are investigating "suspicious circumstances" surrounding a threatening letter sent to Thomasville High School.
According to TPD, the letter contained a threat to personnel at the high school and was received Monday morning.
Both TPD and the GBI are on scene investigating the "suspicious circumstances" surrounding the threatening letter suspect in the investigation.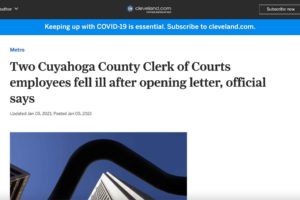 Jan 5, 2021
Two Cuyahoga County Clerk of Courts employees fell ill Tuesday after opening a piece of mail, an official said. The two employees opened the letters and immediately felt "slight burning and tingling,".
An ambulance took the two to St. Vincent Charity Hospital, where they were treated and released, according to Madigan and Cleveland EMS.
Cleveland Fire spokesman Mike Norman said a HAZMAT crew cleaned up the clerk's office.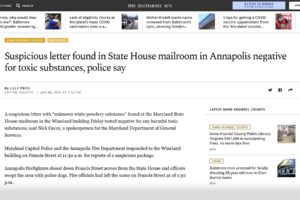 Jan 8, 2021
A suspicious letter with "unknown white powdery substance" found at the Maryland State House mailroom in the Wineland building Friday tested negative for any harmful toxic substances.
Maryland Capitol Police and the Annapolis Fire Department responded to the Wineland building on Francis Street at 11:30 a.m. for reports of a suspicious package.
Annapolis firefighters closed down Francis Street across from the State House and officers swept the area with police dogs. Fire officials had left the scene on Francis Street as of 1:30 p.m.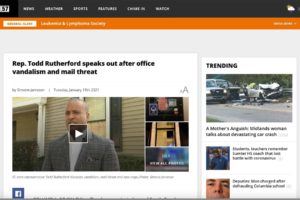 Jan 19, 2021
On top of the physical destruction of Representative Rutherford's law firm on MLK Day threatening letters were sent to intimidate him and his staff.
"The letter came to the statehouse office less than three weeks ago with no return address. It features multiple confederate flags and reads 'Where are your rights? First, Beasley, now Hodges. And 'you next, and no votes for turncoats.'"
"You don't know what to make of it all, you know, is that cowardly people don't even bother to put their return address," said Rutherford. "When people do this it does come across in a threatening manner."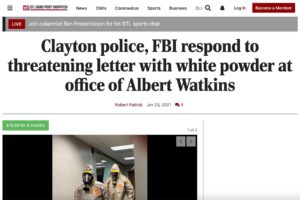 Jan 23, 2021
A threatening letter containing white powder that arrived at a high-profile Clayton lawyer's office Friday triggered a hazmat response and an FBI investigation, police and the lawyer said Saturday.
Lawyer Albert Watkins said the powder had been tested and probably was a harmless corn starch. He was also tested and cleared by a doctor. The letter, mailed Jan. 16 from Arizona, contains the line, "You will NOT represent these traitors," and a line from Shakespeare's Henry VI, Part 2, "(L)et's kill all the lawyers."
Watkins said he believes the letter was triggered by his Jan. 14 announcement that he was representing Jacob A. Chansley, who was in the U.S. Capitol during the Jan. 6 riot, shirtless and wearing a horn and fur hat. Chansley is also known as the "Q Shaman" or "Qanon Shaman," and was a regular at rallies for Donald Trump.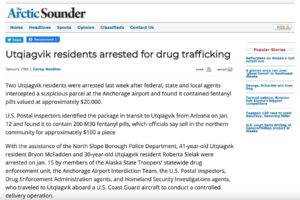 Jan 29, 2021
Two Utqiagvik residents were arrested last week after federal, state, and local agents intercepted a suspicious parcel at the Anchorage airport and found it contained fentanyl pills valued at approximately $200,000.
U.S. Postal inspectors identified the package in transit to Utqiagvik from Arizona on Jan. 12 and found it to contain 200 M30 fentanyl pills, which officials say sell in the northern community for approximately $100 apiece.
International Dangerous Mail Incidents
Governments were targeted heavily this month with mail incidents generally occurring in countries with some form of civil unrest over the pandemic.
The majority of the events originated from anti-vaccine movements or individuals who disagreed with the government's rollout of a program now that it has become available.
White powder was the prevalent method of attack throughout the month.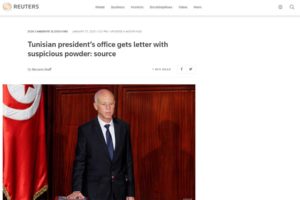 Jan 27, 2021
The President of Tunisia was sent a white powder letter. That letter has both sent one of his staff to the hospital with a loss of sight and been stated to contain nothing hazardous. Reporting in these cases is historically erratic due to the political ramifications and "spin". Regardless of the target screeners are always at risk and the responsibility of care is critical.
"Some local websites reported that the lethal toxin ricin had been found in the envelope and that it had been addressed to the presidency in the Carthage Palace."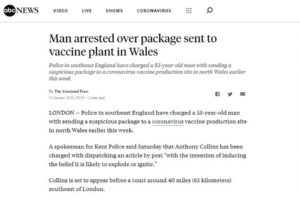 Jan 30, 2021
A hoax package mailed to a Covid 19 vaccine production plant in southeast Wales caused a shutdown that lasted several hours. The package itself was not a complete threat but it was a clear message that the 53-year-old man charged with sending it wanted to disrupt the facility.
A spokesman said Anthony Collins has been charged with dispatching an article by post "to induce the belief it is likely to explode or ignite."
The infrastructure that is focused on Covid relief efforts has been recent targets by anti-vaccination followers. These individuals have popped up in countries around the world and will likely continue.