The face of threats has evolved, thanks to the Covid-19 pandemic and its affect on our lives. The way we see the workplace has changed, maybe forever. The same applies to shopping, dining, and other shared activities.
Now that almost everything in the world can be delivered, we have to redefine the threats we face, and where they come from.
Drugs are no longer primarily passed from hand to hand on a street corner. They have transitioned into the mail and show up at the office with the regular mail. The office is a lot safer for the delivery, because the drugs are hidden in the mass of mail.
Angry ex-employees can target companies who "wronged" them with a 55¢ stamp and 500 milligrams of flour—especially important as offices and mailrooms reopen.
Because of the 2001 anthrax events and the mandated response to "unknown powder," a first responder's arrival at a corporate headquarters is almost guaranteed to bring negative press.
And, as expected, mail-borne threats have continued to occur for the last 60 days. The news that would cover it, however, has been inundated with pandemic-related events, and thus has been quiet about these threats.
June & July 2020 Mail Threats
Below, we highlight a few incidents from the last several months that provide a window into what we can expect to become the new norm.
These are not new "threats." They are, however, presented in a new light, which we can use to plan for the future of mail security.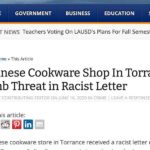 "A Japanese cookware store in Torrance received a racist letter containing a bomb threat, and the Torrance Police Department is investigating the hate crime, it was reported Tuesday. The store's owner, who asked that its name not be released, received a letter that said "go back to Japan…We are going to bomb your store if you don't listen and we know where you live."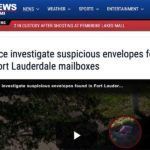 "Police are investigating suspicious envelopes that were left in several mailboxes in a Fort Lauderdale neighborhood. Fort Lauderdale Fire Rescue crews responded to the scene Tuesday morning after envelopes filled with white powder were found in at least four mailboxes. One neighborhood resident reported irritation after opening one of the envelopes. When she went to open her mailbox, a white powdery substance came in an envelope that had no markings on it," said Fort Lauderdale Fire Rescue Battalion Chief Stephen Gollan. The Fort Lauderdale Fire Department's hazmat team responded to the scene where crews tested the power on one of the packages and determined it was baking soda."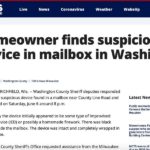 "Washington County Sheriff deputies responded to a call of a suspicious device found in a mailbox. Deputies say the device initially appeared to be some type of improvised explosive device (IED) or possibly a homemade firework. There was black charring inside the mailbox. The device was intact and completely wrapped in electrical tape. Washington County Sheriff's Office requested assistance from the Milwaukee County Sheriff's Office Explosive Ordnance Disposal (EOD) out of an abundance of caution. Milwaukee County EOD responded to the scene and conducted an x-ray of the device. Milwaukee County EOD determined the device was a "sparkler bomb" – eight sparklers wrapped in electrical tape."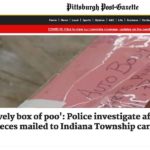 "Police are investigating after the owner of Dewey's Auto Body in Indiana Township said he received a package Thursday containing dog feces. The address on the box was handwritten and the return address referenced an old TV show. When he opened the package, he found dog feces and a written message that read in part, "And show some respect, jag off," "Whenever I got it, I was kind of excited because it said in care of Dewey, private,… When I opened it up, it was a lovely box of poo, of dog poo." A postal tracking code was used to trace the box to the post office on Broad Street in East Liberty, according to KDKA. Cameras captured a picture of the suspect mailing the box.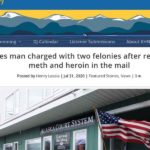 "A Haines man has been charged with two felonies after he received a package in the mail containing crystal meth and heroin. According to court documents, the United States Postal Inspection Service obtained a search warrant to examine a parcel after several suspicious packages were mailed to him earlier this month. On July 21, Inspector Scott Horne discovered that a parcel contained 28.5 grams of crystal meth and 10.8 grams of heroin. The drugs were hidden in a soda can with a hollowed-out recess. Officers with the Southeast Alaska Cities Against Drugs (SEACAD) task force removed most of the substances before making the package available for pick up from the post office in Haines. Court documents say Brewington retrieved the parcel and took it to his residence."