September proved to be a very interesting mail threat month. From ricin targeting the White House and agencies in Texas to threats aimed to intimidate the NAACP.
There was a significant increase of white powder threats targeting locations that included facilities studying COVID 19 vaccines, hospitals that dealing with massive pandemic deaths, and city halls that didn't extend protections against those affected.
Frustrations with the current situation and actions associated with them will most likely continue as the next "wave" of infections is expected to arrive in the upcoming weeks and months — now is the time to make sure your mailroom is protected.
September 2020 Mail Threats
With few voting or polling stations open in September these mail threats targeted Election Boards or Centers.
In all events to date, the "powder" was benign and the sites were turned back over to the election officials within a few hours.
Unfortunately, these events will most likely continue, increase in total numbers, spread to down to polling stations, and into more rural areas with a goal to generally undermine the election process.
And, as always, please see our Five Pillars of Mailroom Security guide to learn how you can protect your employees and facilities.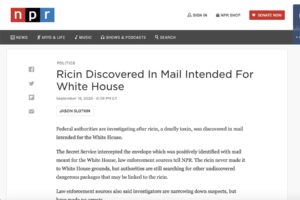 Sep 19, 2020
"Federal authorities are investigating after ricin, a deadly toxin, was discovered in mail intended for the White House. The Secret Service intercepted the envelope which was positively identified with mail meant for the White House, law enforcement sources tell NPR.
The ricin never made it to White House grounds, but authorities are still searching for other undiscovered dangerous packages that may be linked to the ricin."
Ricin mail threats are more common than one would think. The White House has seen ricin letters under every President since 2003.
This is the second event in the last four years that hit national news and will most likely continue as a tactic. Ricin is made from the castor bean off the castor plant, legal and quite easy to produce. It is however quite difficult to target an individual with benign means.
It must be injected, inhaled, or ingested to cause harm. That is difficult to do with most methods of attack when the individual is not physically near the target.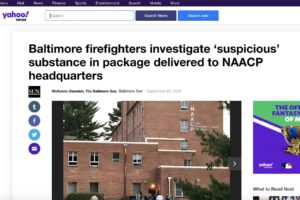 Sep 28, 2020
"A package with a derogatory message and suspicious substance was mailed to the NAACP headquarters in Baltimore on Monday, the organization and city officials said.
National Press Secretary Marc Banks said that around 4 p.m. a "suspicious" package arrived and it had a derogatory message on it. Banks did not disclose what the message was and said it contained "powdery white substance."
"The climate that we're in now, it's really those people who want to quell our voice," he said. "Tactics like this will not work."
Unfortunately, the NAACP and other organizations like it must maintain constant awareness of possible threats. Derogatory writing on the outside of the package and when examined only one employee exposed to the "low risk" powder means the screening procedures were successful.
Instead of an entire office getting exposed procedures can mitigate the risk to a much lower and acceptable level. This is a great technique if you have the people and the threat just not the technology to screen.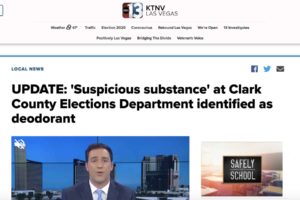 Sep 28, 2020
Officers responded to the Clark County Election Department regarding a suspicious substance found on a letter. An employee at the location became aware of the substance and immediately notified their superiors who then made the call to 9-1-1. The letter was located in the incoming mail, according to a Clark County spokesperson."
"After the suspicious substance was collected and tested it was found to be a type of deodorant. The threat has been cleared and all employees were able to return to work. This incident will be under further investigation to see if the deodorant was placed for malice intent."
White powder events generally use powders that do not affect the target. Not because the individuals don't intend to do so, they just don't understand the security process — or, in many cases, how to implement a mail security program.
Comprehension of what happens on the other end means an increase in frustrations is a possibility. Using deodorant during CBRN training events is common because as it can cause certain sensors to produce false positives. Most likely that is the intent of the individual that mailed this threat and might even have inside knowledge enough to target the sensor itself.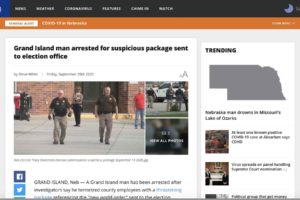 Sep 25, 2020
"Investigators say the package was about two and a half feet long and three inches wide and was bow-shaped. Three black Styrofoam cushions were attached to the bottom of the box. According to the warrant, there was a message "F___ off, NWO" about the "New World Order".
The message was written on a voter registration form. These are pretty clear, if you receive one of these packages your information might be compromised. Change your passwords, PINs, and check your history."
Threats like these are generally caused by individuals who have no other method to release their anger or frustration other than hopefully "faceless" actions.
Unfortunately, when items are too large for stamps and a collection box that increases anonymity they force a chain of custody scenario.
Once stamps are no longer an option an individual must present a form of identification, real or fake, and that is a starting point for the authorities. These events are generally solved quickly with the perpetrator facing the court system.
Sep 23, 2020
"Somerset County Sheriff's Officer K-9 "Basilone" conducted an exterior sniff of the parcel, indicating a positive result for the presence of suspected narcotics."
"On Sept. 14, members of the Somerset County Organized Crime and Narcotics Task Force executed a search warrant at the couple's home, which turned up ½ kilo of cocaine valued at $50,000 and various drug paraphernalia."
Drug dealers are not standing on the street corners like they used to. It is hard to hide a public transaction like a drug deal if almost nobody is out in public. This has driven much of the trafficking trade to the mail both nationally and internationally.
Events like this have become the norm and overall quite effective. For all of the ones that are caught the unknown number of successful shipments that are delivered is keeping the illicit trade going.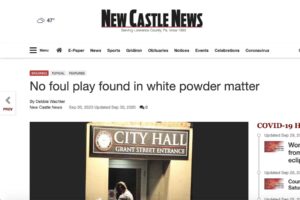 Sep 30, 2020
"A letter addressed to two city council members last week that forced the recess of a meeting and city hall's shutdown contained no controlled substances or evidence of foul play. It was apparent through this investigation that an unknown powder or dust did fall from somewhere in the letter," a police news release said.
"Even though there was no previous threat of violence, this matter was handled seriously based on the concern of one of the council members feeling ill following this incident."
"One individual, who reported numbness in his fingers, went immediately to UPMC Jameson Hospital, where blood and urine tests were administered. The urine test showed traces of fentanyl, he initially reported.
The crime lab reported that no controlled substances were detected on the envelope or on any pages of the letter, according to the news release."
This is much more common than most people would think. These events tend to increase in frequency when tensions rise as everyone involved in the process is hyper-vigilant.
Most often it is something completely normal that can be expected and local to the area. Everything from tipped over cleaning agents to dust gets reported as white powder threats and its simply because the individuals are paying more attention than normal.
Another possibility that commonly occurs inside of letters is tied to bulk mailings. Machines that transform, for example, 100,000 sheets of paper into 50,000 envelopes and 50,000 letters. This transformation causes a buildup residue that is often mistaken for a "white powder" threat.