October saw the shift of threats move away from more generic threats to ones that occur less often but carry heavier casualties and legal penalties.
Drugs in the mail continue moving up in frequency and this month has increased in size as well. An incident with 10lbs of methamphetamines sent through a legitimate shipper and an obvious suspect is a bit telling.
Drug dealers are having to lean heavier on external or "new" suppliers as normal logistical lines are stressed. Raw drugs are being found closer to the end-user meaning there is an increase in the possible variations of what screeners need to look for.
October 2020 Mail Threats
It allows those who feel they don't have a "voice" or a "platform" to reach out and affect change.
Between the continuation of the usual types of mail threats — in this case, white powder threats and the increase in flat out threatening letters, these trends will continue.
Most seem to think they will stay anonymous, however, when you do things like threaten a sitting major city mayor it will get federal attention quickly leading to charges.
And, as always, please see our Five Pillars of Mailroom Security guide to learn how you can protect your employees and facilities.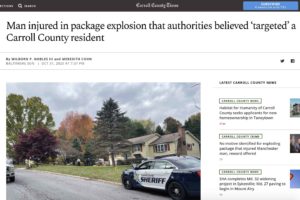 Oct 31, 2020
A package exploded at a Carroll County home, injuring a 28-year-old man in what authorities called a targeted incident. The man was in stable condition Saturday at a hospital. Carroll County Sheriff Jim DeWees said the victim isn't in a life-threatening condition.
"We certainly believe what took place could have been life-threatening. It did significant damage to his house, so we believe he was very lucky," the sheriff said. "We're not fearful that there's other packages floating around out there."
"That's not to say you shouldn't be suspicious of a package that you get. Obviously, if it's coming from a reputable company and [it's something] you ordered and you know you ordered, then OK. But if it's got a label on it that you're not familiar with and you didn't order anything, then you should be suspicious before opening it," he said.
This is precisely the type of mail threat Executive Protection teams worry about.
Explosive threats represent one of the more dangerous situations that first responders have to mitigate. The device itself is only limited by the intelligence and ingenuity of the builder. When they do occur it is usually, like this one, aimed at an individual who the perpetrator feels is "worth" the device.
They are usually keenly aware of the response that an explosive device will bring and how difficult the investigation might be to avoid it. Situations like this will get an ATF, FBI, USPIS or any other responsible federal authority involved quickly and usually end quickly.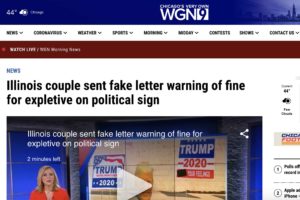 Oct 6, 2020
"A yard sign that said "Vote for Trump … No More (expletive)." Someone was offended by the language and forged a letter to the couple that was supposed to be from city hall.
"The deputy city manager says they get a few reports of stolen or damaged political signs during election season, but not fraud. The letter stated they will be fined $250 for posting a sign containing obscenities. The sign was stolen the next day."
This scenario and others like it are playing out as the election gets closer. Regardless of what side the important take away is the strange activities to expect up to and especially after November 3rd.
As individuals on both sides of the line either feel vindicated or enraged with the outcome expect some action to come by it. Where this seems harmless it can easily escalate and paying attention to how a threat might escalate in how it presents itself is key.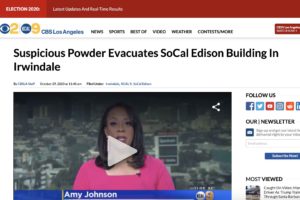 Oct 29, 2020
Suspicious envelopes containing a white power forced the evacuation of a building belonging to Southern California Edison in Irwindale Thursday morning and prompted a hazmat callout. However, the substance was later deemed harmless — luckily, this case did not involve chemical mail threats like Ricin.
The suspicious envelopes were reported before 8:40 a.m. at a SoCal Edison mail processing center in the 6000 block of Irwindale Avenue, according to the Los Angeles County Fire Department.
Employees, who had just completed training regarding suspicious materials, were sifting through incoming mail when they came upon the envelopes, Irwindale police said. All employees in the building were evacuated and hazardous materials teams from both the L.A. County Fire and L.A. County Sheriff's departments were brought in to investigate.
Hazmat teams tested the substance and determined it to be "benign" with "no public health risk," LACFD reported. Investigators also determined the envelopes were not criminal. The employees were all wearing protective masks and gloves when they handled the envelopes. Firefighters examined the employees and did not believe they were exposed to anything harmful.
White powder events continue to occur across the spectrum. This month saw a woman with no reason to fear a threat receiving a powdered package who immediately reacted. It is enough of a problem that she saw powder and quickly placed the package in a bag and called the authorities.
The incident above is a great example of how much of a problem this is in corporate America. A power company in California employees had just finished training, were wearing gloves/masks, and had recently completed an exercise all about white powder events. The timing could not have been better but it also tells how serious management teams are taking this threat.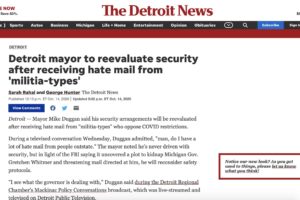 Oct 14, 2020
Mayor Mike Duggan said his security arrangements will be reevaluated after receiving hate mail from "militia-types" who oppose COVID restrictions.
During a televised conversation Wednesday, Duggan admitted, "man, do I have a lot of hate mail from people outstate." The mayor noted he's never driven with security, but in light of the FBI saying it uncovered a plot to kidnap Michigan Gov. Gretchen Whitmer and threatening mail directed at him, he will reconsider safety protocols.
"I see what the governor is dealing with," Duggan said during the Detroit Regional Chamber's Mackinac Policy Conversations broadcast, which was live-streamed and televised on Detroit Public Television.
After the plot was foiled to kidnap the Michigan Governor it makes sense that a lower public official would be next in line. What is surprising is the word "reconsider" when it comes to his security. This article states he does not drive with security and seems to present the mayor of a major city with contentious issues is a "soft" target.
Most likely that is not the case, it does tell those wishing to harm that there is a chance of success if they choose that path. A hardened target is often just the perception and some simple security practices. These are core principles of implementing a mail security program.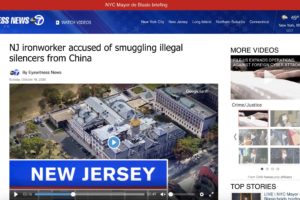 Oct 18, 2020
A New Jersey ironworker has been arrested as part of an international arms-trafficking investigation. Prosecutors say 48-year-old Matthew Moran of Bergen County smuggled illegal silencers from China. Moran allegedly had the silencers shipped to his home in Carlstadt.
Silencers are meant to reduce the sound and muzzle flash generated from a gunshot. Authorities say a search of his home also revealed numerous firearms, high capacity magazines, thousands of rounds of ammunition, and police-issued ballistic vests.
Anything is available through the mail. For example, silencers labeled "fuel filters" come in standard bullet diameters and requisite threaded attachments can be purchased from multiple sites.
High capacity magazines and other contraband items that used to be easily picked up at local gun shows are now mostly sent through the mail. Much of the time these items are mailed into the workplace to provide some modicum of anonymity as the illicit items sent to the home are more obvious.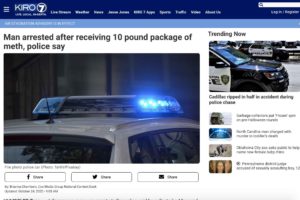 Oct 24, 2020
A Tennessee man was arrested after police said he collected a 10-pound package of methamphetamine from a home that was not his.
According to a release from the West Tennessee Drug Task Force, a shipping company transporting a package from Lemon Grove, California, to Humboldt, Tennessee, told officials the package was suspected of containing drugs.
Upon investigation, authorities found the package contained $544,000 worth of methamphetamine inside plastic storage bags wrapped in cellophane and placed inside what appeared to be balloons or another inflatable object. Those were wrapped in cellophane again.
This happens every day, in every state, and through every mail stream available. What does not happen every time is the seemingly risky move of having it sent to an address that the individual receiving the package did not control. Some actions recently seem to show the amount of acceptable risk to be on the rise.