Mail Threat Alert - August 2021
Dangerous Mail Report Download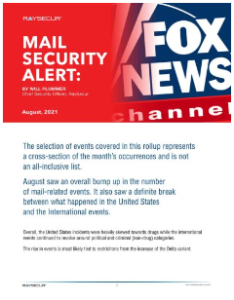 August mail threats saw an overall bump up in the number of mail-related events.
It also saw a definite break between what happened in the United States and the International events.
Overall, the United States incidents were heavily skewed towards drugs while the international events continued to revolve around political and criminal (non-drug) categories.

The rise in events is most likely tied to restrictions from the increase of the Delta variant. 
White powder events rose this month along with the illicit drug numbers. "White powder" was sent to multiple targets that represented everything from controversial news stations to schools. 
United States Mail Security Incidents

White substance in mail causes scare for Fox News host – Manhattan, New York
FBI Testing Powder Found Inside Suspicious Package Sent To Squirrel Hill South School – Pittsburgh, Pennsylvania
FedEx Package containing over 10 Pounds of Illegal Drugs including suspected Hallucinogenic Mushrooms intercepted by Kentucky State Police – Hardin, Kentucky
Officials intercept drug package at Johnstown Post Office, arrest man at gunpoint: Police – Johnstown, Pennsylvania
Not delivered: Key West man accused of receiving cocaine through mail – Key West, Florida
International Mail Security Incidents
Letter addressed to the Pope with three bullets inside is sent to the Vatican – Vatican City
Laptop delivered to Zambales mayor triggers bomb scare – San Antonio, Philippines
Star hotels searched after Afghan's bomb threat mail – Chennai, India
Exotic snail discovered alive in unmarked box in shipping center – London, England