Reopen Mail Centers Safely
Due to the pandemic, many companies shut down their offices. As they begin to re-open, companies will face three major hurdles in their mail centers.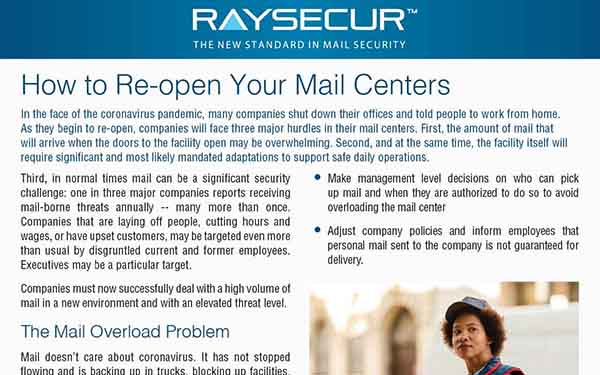 First, the amount of mail that will arrive when the doors to the facility open may be overwhelming.
Second, and at the same time, the facility itself will require significant and most likely mandated adaptations to support safe daily operations.
Third, in normal times mail can be a significant security challenge: one in three major companies reports receiving mail-borne threats annually — many more than once.
Companies that are laying off people, cutting hours and wages, or have upset customers, may be targeted even more than usual by disgruntled current and former employees. Executives may be a particular target.
Companies must now successfully deal with a high volume of
mail in a new environment and with an elevated threat level.